I've been really bored with getting dressed lately. I feel like I have nothing to wear, even though my closet is overflowing and I have the inventory of an entire vintage shop to play with. However, I've owned most of the items in my wardrobe for many years and after a while they start to feel old (no pun intended as most of my clothing is vintage and thrifted, but-um-bump). Honestly, I don't have much occasion to actually get dressed. I work from home in my pj's for the most part and whenever I leave the house for errands or gatherings at friend's homes I usually dress to be warm first and stylish second. Thus "Style Experiment" was born. I hope you enjoy this newest addition to our blog post family!
THE IDEA: I usually only wear knit tops. Due to my curvy and busty figure (just sayin', not complaining) traditional woven styles either don't fit, look too matronly, or make me look a few sizes larger in the midsection than I actually am. Button ups or secretary blouses, forget it, I look ridiculous! This usually isn't too much of a problem as I have many knit tops to fill in the blanks (see
here
,
here
, and
here
for example). However after seeing other fashion bloggers looking totally cute in woven tops I decided to give it another try. On my weekly thrift store hunt last week I spent extra time in the "Blouse" section scoping out shirts that might work for me. Here's what I came up with...
THE SUBJECT: This vintage "Lucky Me" super big and boxy bright red polyester top.
THE HYPOTHESIS: If I style a boxy woven blouse correctly for my body type than I can totally pull off wearing items that are outside my comfort zone.
THE EXPERIMENT: Style this top in different ways that are practical for wear and can be used for other similar style shirts.
Style A: Loose with fitted jeans and a bold necklace. I wore a fitted tank underneath the red top to elongate my torso a bit and take attention away from my widest part; my hips. It also was a good color contrast and showed my slimmer torso under the baggy top. These jeans were great because they were fitted in my thigh, you don't want to wear a loose top with loose pants. The flat red top proved to be a great backdrop for this enormous vintage necklace and vice versa, the necklace broke up the mass of solid color. The heels because I haven't had a chance to shorten these jeans yet, and of course the added height. The black socks to contrast against the gold and to keep my toes warm!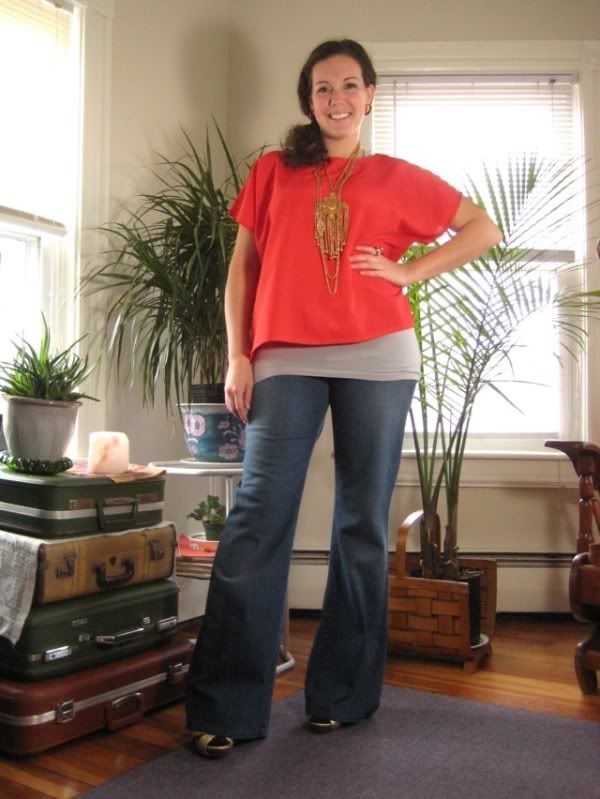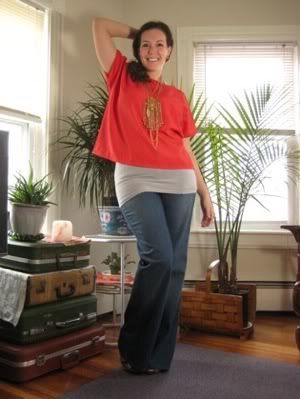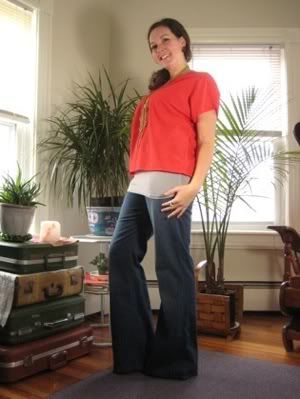 Tank: Express, Jeans: Joe's Jeans from the
Swap
(with $200 price tag still attached!), Shoes: Steve Madden, Jewelry: Vintage
Style B: Tucked in to a mini skirt. If you have an hourglass figure, the best advice in the book is to showcase your smallest part, your waist! By tucking this top into the skirt and wearing the skirt around my natural waist (smallest circumference of my torso) the baggy shirt and slightly puffy skirt don't make me look huge, if anything it makes my waist look even smaller. The other great part about wearing puffy skirts around your natural waist; no more sucking in your gut! This is also another trick of proportions. The short skirt hides the biggest part of my body while showcasing my fit legs (all those yoga warrior poses aren't for nothing!) I also just love the color combination of this outfit; the taupe and red go great together and the black tights and brown boots only make it more interesting.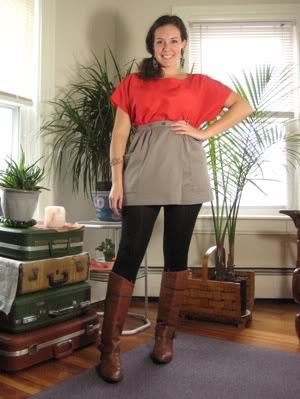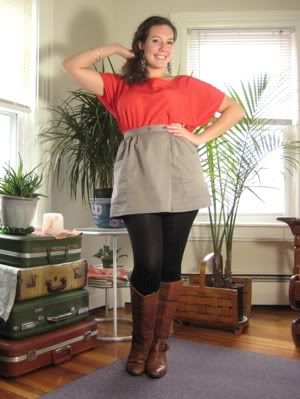 Skirt: Altered vintage (I made it much shorter), Tights: Express, Boots: Vintage, Jewelry: Vintage
Style C: Belted over a pencil skirt. This style is similar to Style B in the sense that it is using the same principle of showcasing your smallest area. Rather than tucking the shirt into the skirt I wore it outside and with a belt to show my waist. I think it's really beautiful to see the gathers of the top go in and puff out below the belt to form a great little peplum. The chunky texture of the skirt also is a great contrast to the silkiness of the top. And as far as colors go, you can't get more classic than red, black, and gray. Tall boots would have covered up too much leg (remember, thin near thick) so I opted for some nude pumps which also look great near the black tights.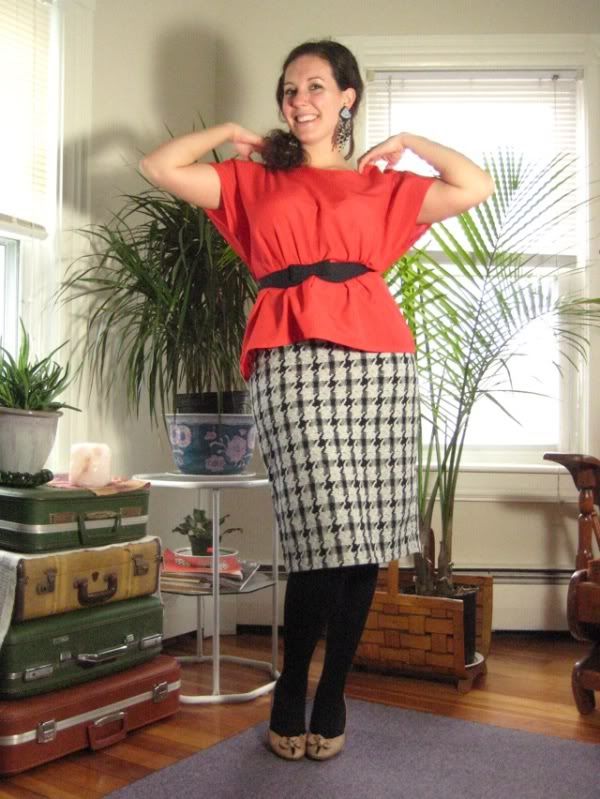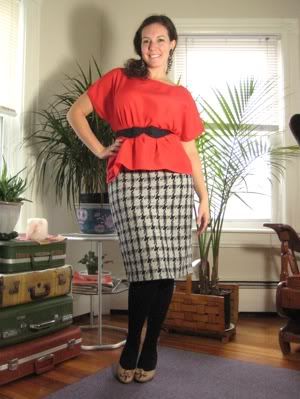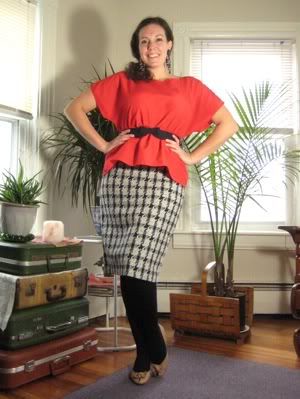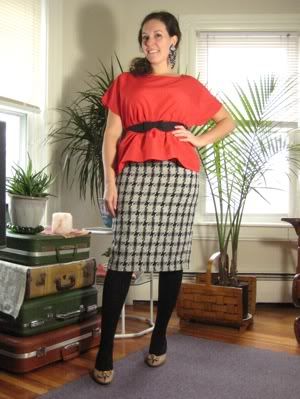 Skirt: TJ Maxx, Belt: Vintage, Pumps: Vintage, Jewelry: Vintage
THE CONCLUSION: Success! I love this shirt! I think it looks great in all of the above stylings. When I first began this experiment I thought it was going to be a epic failure or total success and I'm so glad it was the latter. It goes to show that no matter what the wearable item, if you style it properly for your body type it can definitely work. I stepped outside my fashion comfort zone and in return found a new wardrobe staple. I am now so excited to try out more items that in the past I have been afraid of or confused about how to wear. I can't wait for next weeks Style Experiment!
Stay tuned for tomorrow's Over the Weekend Post about holiday decorating and cookies!