While reading
Jen Loves Kev
yesterday and loving
Jen's outfit
I realized that I am seriously lacking in the tights/leggings/socks department. One of the problems with only shopping at thrift stores is that I never have enough basics. I own about 3 pairs of calf length black leggings and one pair of matte black tights. While I definitely get use out of these pieces I need some leg wear variety in my life! I looked at some great websites including
We Love Colors
,
Hansel from Basel
, and
Modcloth
but decided to try and find some great cheap(er) tights on my own. I went to TJ Maxx and found nothing but boring colors and a serious lack of patterns besides cheesy lace ones. I figured I try Target and I did have some luck. I bought 3 pairs of knee socks (light heather gray cable knit, black and gray stripes, and ribbed gray) that were $2 a pair, a pair of charcoal gray sweater tights for $10, and some hot magenta ones for $5, not bad! While my trip was mildly successful I think I might still purchase a few pairs of tights online. I'll let you know what I decide and I can't wait to wear my pink tights! While doing errands I wore a scarf from Thailand, tank and cardigan from TJ Maxx, thrifted and altered Banana Republic jeans, vintage Hang Ten sneakers, and yard saled silver hoop earrings.
After tight shopping, I scored some pretty awesome vintage jewelry to sell at a random consignment shop that I passed by, including a magnifying glass necklace, and one with a huge elephant head. Come scoop them up this Sunday at
SOWA
in Boston (it's the last one of the season!) or see them online in the near future. Here's a photo to wet your appetite!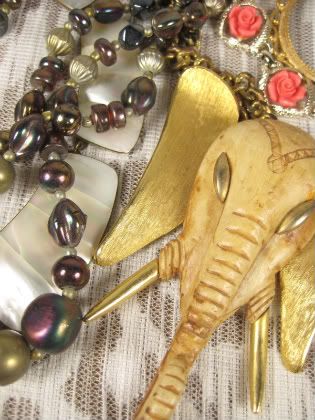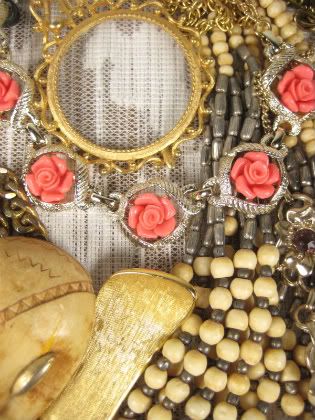 When Brian got home from work he made some delicious homemade meatballs and marinara that we enjoyed with some crusty bread and pasta while watching "It's the Great Pumpkin, Charlie Brown!" It's always so weird watching old cartoons from your childhood as a adult. They're more interesting and boring all at the same time.