I've decided that every few weeks or so I'm going to host a giveaway. It's a great way to thank my readers and winning free stuff makes everyone's day, right? This week the item up for grabs is a fantastic vintage pendant necklace. It's on a longer chain, has a great shape, and is certainly unique. I've always loved this piece and I can't wait to see who gets to own it next! All you have to do is visit
my etsy shop
and comment on this post telling me what your favorite piece is. On Friday I will randomly choose a winner and promptly ship out your new necklace. Easy, right?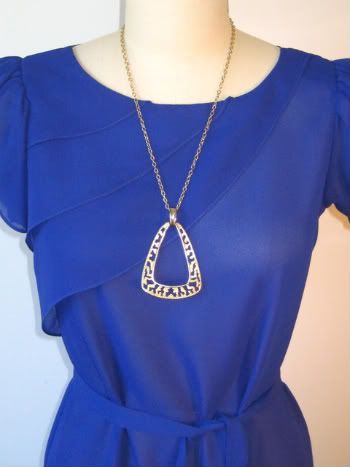 After a very busy weekend I decided to take it easy yesterday. I slept a little late and spent my afternoon scoping out new thrift and consignment shops and stopping by my favorites of course. I didn't have much luck finding new places but I did find a fantastic pair of Nine West Studio shoes for $18! They have brown suede platforms, leather soles, and teal crocheted ties. I'm pretty sure you're just meant to wrap the ties around your ankle but I much prefer wrapping them around my foot and under the shoe for an elaborate criss cross strappy look. They even have tassels in the back!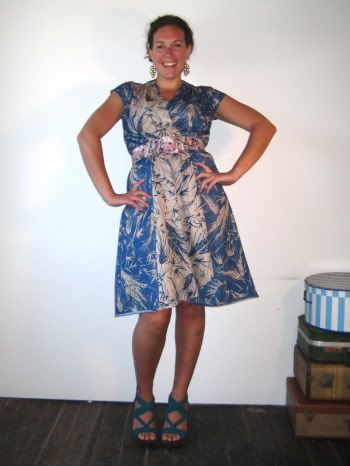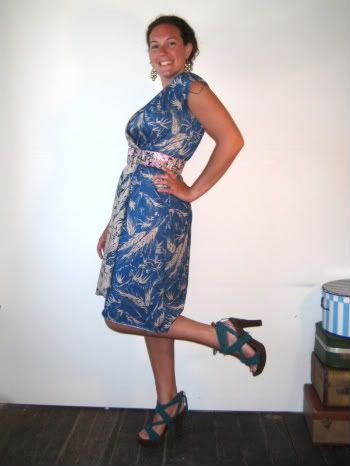 Dress: vintage from
Wish
in Newport, RI
Belt: thrifted vintage
Shoes: Nine West Studio from
Thirds
in Bristol, RI
Earrings: thrifted vintage
And please forgive my pink face, I forgot sunscreen on Sunday!