What an action packed and fun filled weekend I had! I feel like I was busy every second. Bright and early on Saturday morning Brian and I helped my dad move my new humungous awesome work table to my studio! My dad is just about the best dad that ever was and as a studio warming present he made me this 6x8 foot cutting table. He is immensely talented when it comes to building things and this is the most perfect cutting table that I have ever seen. Most people look at me like I'm a bit off when I express such excitement over a table but those of you that cut and sew know what a huge treat it is to have a proper working space. I am so excited to get to work! Now I have to excuse not to reupholster the vintage wicker set my mom just bought for her new sun room.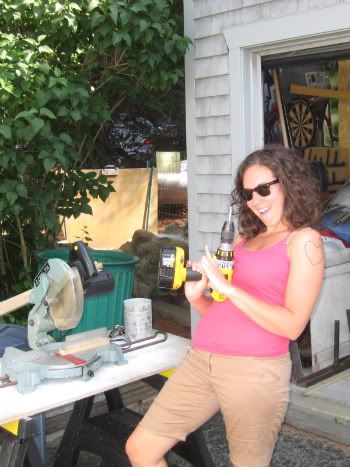 In the afternoon Brian and I lounged around outside on the hammock before heading to Caitlin and Jeff's for a game night. Cait had the good fortune to find Mall Madness and Dream Date at a thrift store so we spent the night finding out who our secret crush was and scoping out the best deals at the mall just like it was sixth grade all over again. And yes, the boys played along, aren't they great! I forgot to take photos there so I snapped one in the backyard when we got home. I wore my new favorite Nine West shoes, vintage earrings, belt, and skirt. It was pretty late so I guess all that haze is the night dew setting in.
Sunday was a lay around day but Monday was a blast! We were invited last minute to go out on a boat in Newport harbor so of course we jumped at the chance. A friend of a friend is the captain of a wealthy woman's 1930's restored motor boat that was originally used as a tender when the America's Cup sailing competition was in Newport, RI. It is a stunning boat with beautiful woodwork and original details. The day couldn't have been more perfect. The weather was beautiful as we sat on board sipping wine and eating an assortment of cheeses in Mackerel Cove in Jamestown, RI. I love being out on the water, it is so calming, refreshing, and an overall delightful experience. I was in a great mood for the rest of the day. I wore a dress from Express that I've had since high school, my vintage Ray Bans, and a floppy hat for occasions such as this. If May has been this wonderful I am beyond excited for June, July, and August!