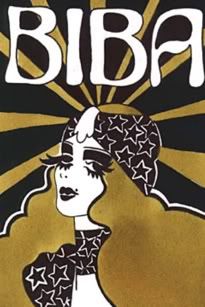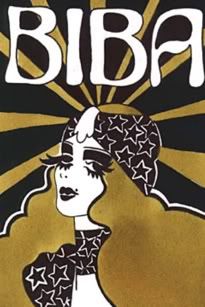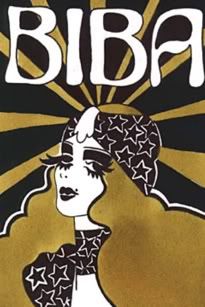 Hello. I am Agnes and lucky for you, you caught me on a good day. Fidget asked me to share some vintage tidbits on the computer in return for some smokes and a bottle of dry vermouth. I will begin with the fashion icon and legend that is Barbara Hulanicki.
Babs pioneered a fashion revolution in London with her Biba shop in the late 1960's when she was the first designer to target her designs entirely toward younger people with trendsetting collections, a glamorous storefront and a deliberately low price point.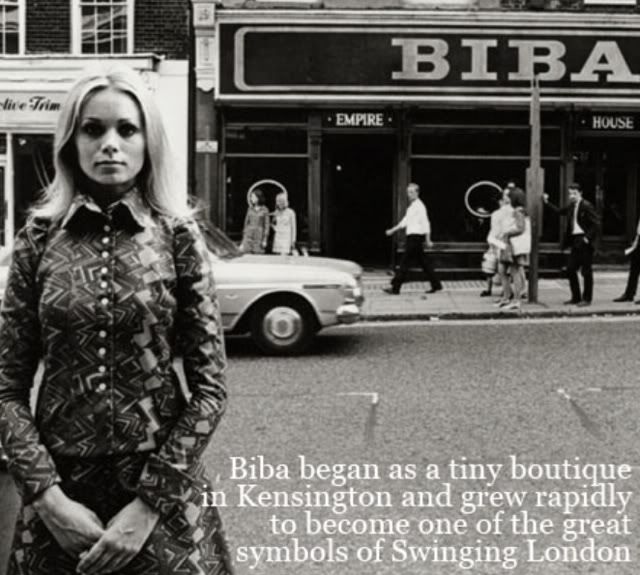 In 1964, Barbara started selling her first ready to wear designs in London via mail order from fashion sections in various magazines. Her first significant success was a pink gingham dress that was advertised in the Daily Mirror around the same time that Brigitte Bardot wore a near exact replica as her wedding dress. It is said that over 4,000 orders came in by the next day. Soon after, she opened a shop named Biba on Arbington Road in London in September of the same year.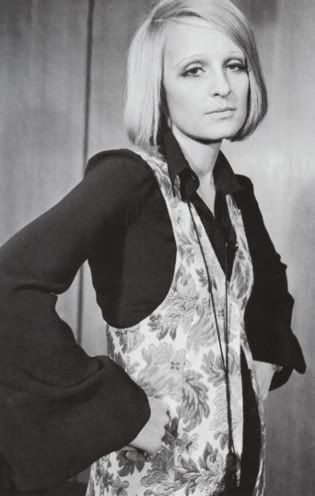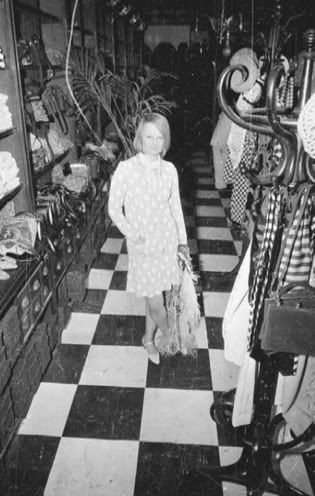 Barbara's aesthetic was heavily influenced by Art Deco and Art Nouveau styles and she designed flattering clothing for more slender figures than was custom at the time. She described her customers as 'postwar babies who had been deprived of nourishing protein in childhood and grew up into beautiful skinny people: a designer's dream. It didn't take much for them to look outstanding.' These women were mostly teenagers or twenty somethings, who simply wanted to wear clothing that was affordable and looked good on them.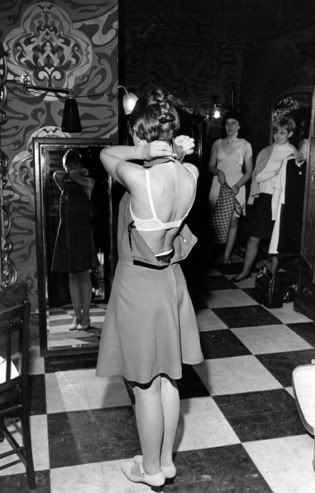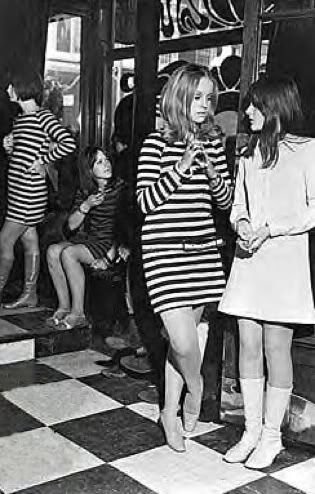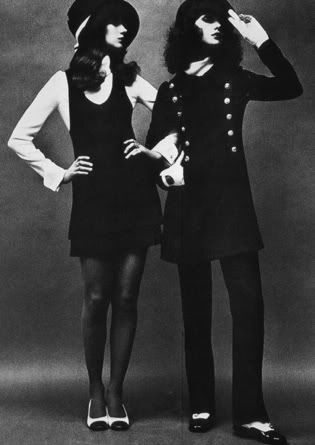 The shop itself seemed like an exclusive club with its blaring music, celebrity sightings and rooftop garden but it was just as accessible for the common girl as it was for the budding socialite. The windows were always fantastically displayed and at Biba you would come across such extremes as metallics mixed with dusky colors, mini skirts alongside maxi coats, platforms lined up with Victorian boots, and movie actresses lined up with five and dime store employees. If I die tomorrow, I hope to end up at the Biba shop circa 1966. To be more specific, I want to be making Mick Jagger and Marianne Faithful wait in the dressing room line while I take my time contemplating which color feather boa would best match my new checkered three piece pants suit.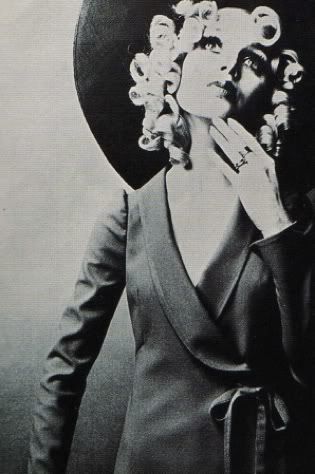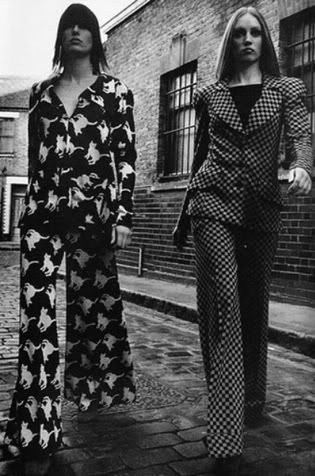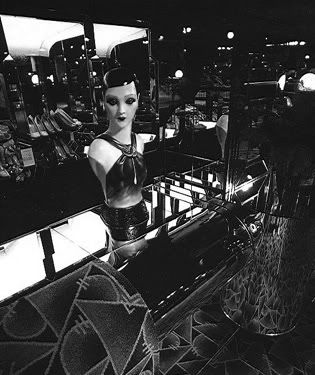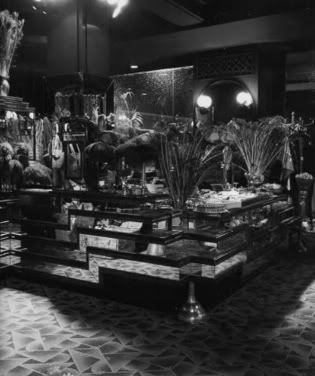 Here is an excerpt from an interview with Barbara Hulanicki in Vice Magazine from 2009:
Vice
: It seems like you had such a clear vision with Biba. It was a very specific art-nouveau- and art-deco-inspired, old-Hollywood glamour look. I was wondering how that came about.
Barbara
: First and foremost, the inspiration was the period in which we were living. There were absolutely no clothes for young people in England. I mean, in America there were wonderful things happening in the early 60s but in the UK we were all desperate, just desperate, for clothes. Another inspiration was old movies—mostly things with Garbo and American musicals.
Vice
: The color palette was great. Everything was dark browns and purples and lots of black. It was very lush and boudoirish.
Barbara
: I was designing in England, which is very dark and gloomy, and our color palette there is not as strong as it is in America. For instance, where I am now, in Miami, the sun soaks up color. So it was all to do with light, really.
Vice
: I read that you were in art school and you started out as a fashion illustrator.
Barbara
: I did fashion design at art school, but that seemed to take too long. I was desperate to get a job and get out of my home life and be independent. Illustration was often used in editorials back then—photography hadn't caught on yet. It seemed the quickest way to get to be independent but still have something to do with fashion.
Vice
: How did you go from illustrating to making and selling clothes?
Barbara
: I was illustrating in a studio when I met my husband, Fitz, who was in advertising. He said, "You've got to go back to design. You've got to go freelance," which I did and my career really rocketed. I was in all the big magazines—Women's Wear Daily, Vogue, Harper's, Queen magazine—and traveling a lot to France, doing shows there. That was amazing training. I kept seeing that there was absolutely nothing for the young. Paris was all for ladies who lunched.
Vice
: It seems like everything you were doing—the clothes, the shop, the way you presented retail as an "experience"—was the complete opposite of what everyone else was doing at the time.
Barbara
: Well, it was all the things I wanted myself. First of all, I had a loving husband who hated shopping. So I thought that a way to get the boys to stay was to get them a seat. Then they could watch the girls and it would work. Remember, there weren't that many clubs in those days. People didn't go and eat out. There weren't that many concerts. Now you can hang out in all sorts of places, even Starbucks, but there used to be nowhere like that. The boutique, especially on a Saturday, became a big meeting place.
Vice
: In the beginning, everything you made was limited run, which really created the idea of cult items that people just had to have.
Barbara
: Retail is like fishing. You never know what's going to sell big. We were cautious. We sold, and as we sold, we made more. Everything was practical, it wasn't thought out in a marketing room or anything.
Vice
: It's so different now.
Barbara
: Yes. Everything is marketed for us and then they put money into it. We were doing it the other way around.
Vice
: It must have been exciting to do it that way.
Barbara
: Tremendously. You've no idea. You never knew when you were going to catch the big one. In retail, it's this moment that counts, not tomorrow, not the next day, not yesterday. You have to keep making money. Otherwise you die.
Vice
: I was reading about the catalogues that you produced. In the 50s and 60s, catalogues were thick books of drawings. You were the first to do a catalogue with photos that looked like magazine editorials.
Barbara
: I was madly in love with photography and photographers and I said, "Wow, now is the chance to use some of these incredible people." I mean, can you imagine, we had Helmut Newton doing it! He was big then, but not that big. I went through a friend of mine who was working at the Observer and I said, "Please ask him!" She said, "Of course he will, he would love to."
Vice
: Never know until you ask, I guess.
Barbara
: Absolutely.
Vice
: You had so many different ideas, and many of them you actually brought to fruition. There was a men's line, a children's line, shoes, jewelry, grocery items, coffee, tea, cat food, dog food—even Biba baked beans! I've also read about a Biba car that was being planned.
Barbara
: That never happened, but we were absolutely planning it.
Vice
: You came out with a black lipstick, right?
Barbara
: Yes.
Vice
: You were so ahead of the times! Even nowadays, if somebody does something that bold, people freak out. As recently as last year, YSL put black lipstick on their models and people were like, "Ooh, it's so weird." I can't imagine what people thought about something like that in the 60s.
Barbara
: Well, you see, we were starting from zero because lipstick then was coral. That was it. So we had a completely blank canvas. That new generation was so hungry for anything new. It was fantastic. Our first lipstick was chocolate brown and it sold out in two seconds!
Vice
: Did you wear the lipstick as well?
Barbara
: Oh yeah.
Vice
: It sounds like you were creating an army of young girls that were all tuned into your look.
Barbara
: Yes, because I was tuned into them. I mean, it's important that you're tuned into your public. The English public is incredibly open and eccentric, totally open to new ideas. They're not frightened of being laughed at.
Vice
: Let's jump ahead to when you moved into the seven-story "Big Biba" store. Not only was it a full-service department store, it was, again, a place to hang out. You had film stars, artists, and rock stars like the Rolling Stones and David Bowie coming in. Brigitte Bardot would be there. It just struck me that nowadays a lot of designers court celebrities so they can pack the front row of their shows with them and get them to wear their clothes.
Barbara
: Right, they pay them.
Vice
: Yeah. But it seems like people just naturally came to hang out at the Biba store because it was a cool place to be.
Barbara
: I'll tell you what, we had fabulous-looking girls in the shop and that was enough to bring those boys in. Even when you get a girl that isn't so fabulous, she becomes fabulous because she's with the others and she can try things on and look nice. So, they bloom, they bloom. Birds of a feather.
Here are some "Bibaesque" pieces that Fidget currently has for sale in her shop: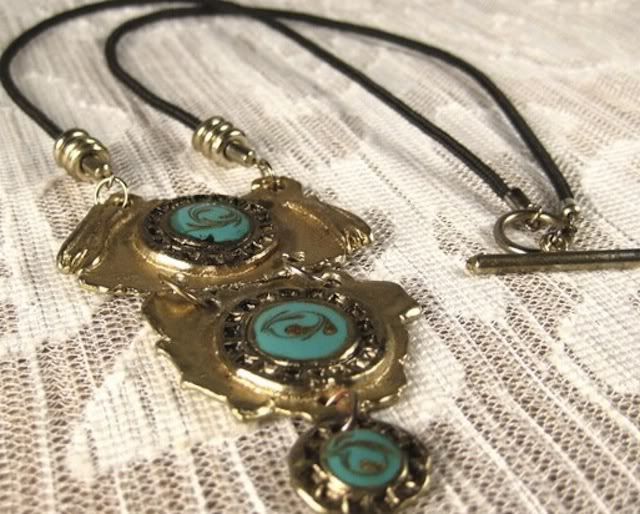 Stamped Gold with Turquoise Pendant Necklace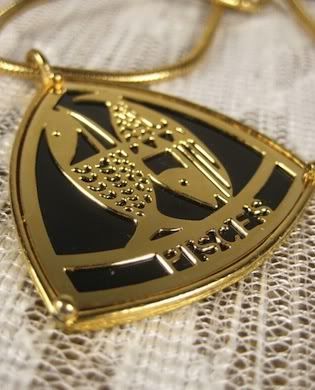 Black and Gold Pisces Pendant Necklace
and
Oversized Geometric Silver and Red Pendant Necklace
Perfect Sparkly Gold Clutch
Barbara Hulanicki continues to push the boundaries with her current interior and fashion designs. In addition, there is a "Biba" musical in the works, an amazing documentary called "Beyond Biba" came out in 2009 and Biba is back - The House of Fraser relaunched the Biba brand in 2010. Below are photos from the Biba Spring/Summer 2011 Collection and a trailer for "Beyond Biba".
Biba Spring Summer 2011 Collection
Beyond Biba Trailer
That does it for now. So scram and check back soon for more fashion highlights from decades past.
Yours truly, Agnes.